IMPORTANT!
Thank you for visiting my photos, info, and updates page. For any questions, please contact me at: ronf1@mail.com
We LOVE St. Maarten, and we also LOVE Maui! Two very different islands. Variety is said to be the spice of life. Here is the best of Maui!
Kaanapali Beach Club is no ordinary timeshare. It's more like a full services resort. ONSITE Ocean view Dining Room featuring an upscale daily breakfast buffet and weekly specialty dinner buffets (seafood / Luau dinner show). Also onsite, a large poolside cocktail lounge/restaurant with a daily happy hour (live music daily except on movie night) and service to the chaise lounges surrounding a huge lavish pool with sit-under waterfalls, a water slide, and a separate children's pool. Also onsite: full snack bar, pizza/take-out, movie night around the pool, complimentary miniature golf, activities desk, a convenience store, and much more.
Huge North Pacific Humpback Whales can be seen right from the Kaanapali Beach Club's shoreline! Even better, take a whale watching boat from the nearby boat harbor (ask them about best days/times for viewing). Sometimes these Humpbacks come right up to your boat! This is the Season to be in Maui because Humpback whales migrate through the North Pacific Ocean every year, roughly November-May. Bottlenose Dolphins and Spinner Dolphins can be enjoyed from your whale watching boat as well. Spinner Dolphins especially love to frolic in the wakes of boats!
CHRISTMAS 2017 / NEW YEAR'S 2018 in Maui!!
Upscale 1 Bedroom with Kitchen and Ocean Facing Balcony at the Kaanapali Beach Club.
Christmas in an Ocean View suite, Dec 23 to Dec 30, 2017 (7 Nights Sat to Sat), $1895
Christmas in an Ocean View suite, Dec 24 to Dec 29, 2017 (5 Nights Sat to Sat), $1395
Ring-in New Year's 2018 in an Ocean Front Suite, Dec 30 to Jan 6, 2018 (7 Nights Sat to Sat), $2250
New Year's wind down in an Ocean Front Suite, Jan 6 to Jan 13, 2018 7 Nights: $2195
No $175 resort fee & no 14% Resort tax that will cost others $400+ per week. You pay only $51 tax per week!
The KAANAPALI BEACH CLUB, Lahaina, Maui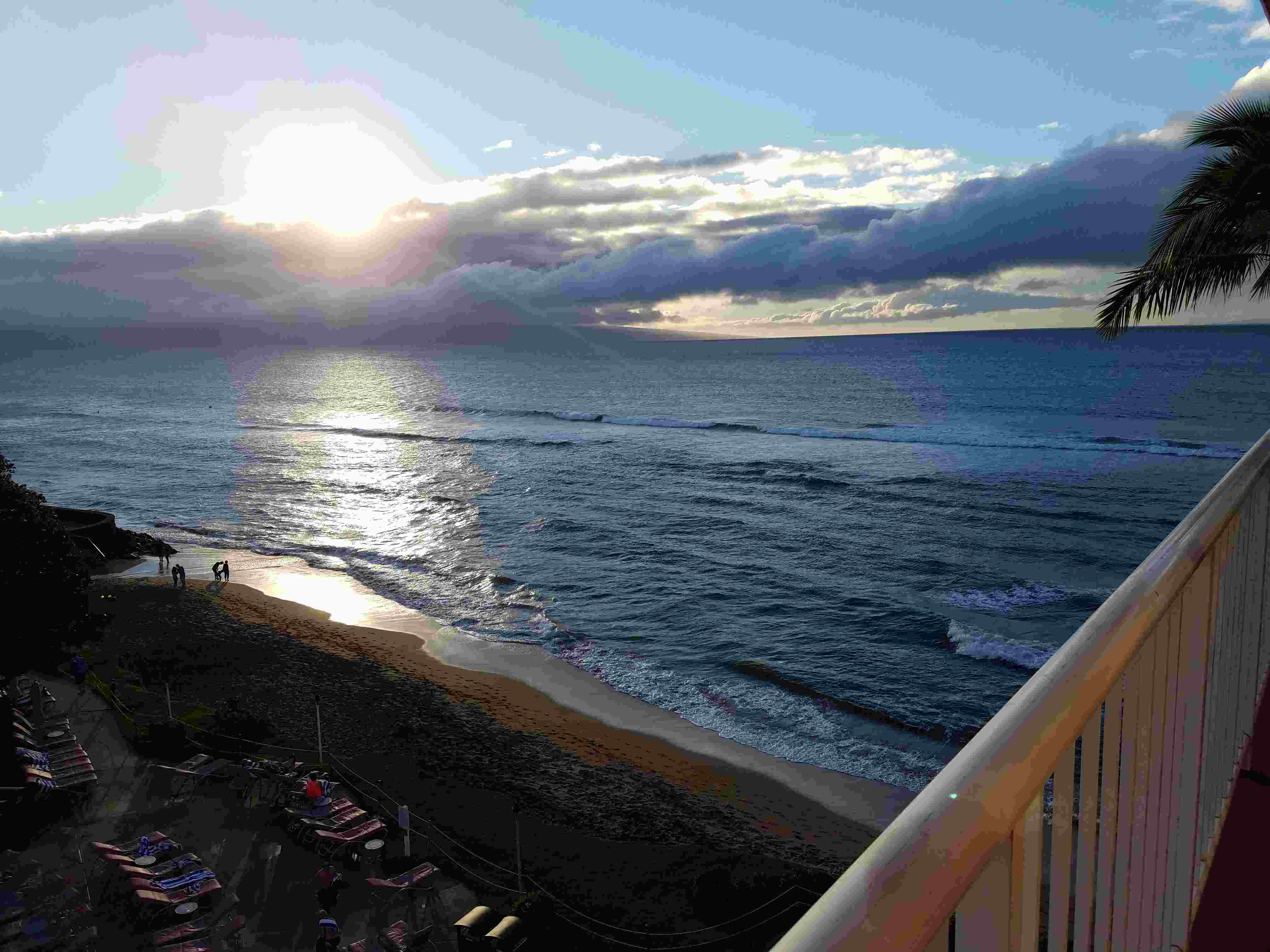 Resort Offers: On-site Sumptuous Buffets (Daily Breakfast with made-to-order omlets, Seafood Night, Authentic Hawaiian Luau Night); Take Out Meals, Snack Bar, Full Cocktail Bar, Happy Hour (One of, if not the best in Maui).
Also On Premises: Concierge/Activities Desk; Gym; Miniature Golf; Scuba/Fitness/Wellness Classes; Gift & Sundries Shops; much more.
To see Photos of KBC's Upscale Suites: Search in your browser for "Kaanapali Beach Club".
- - Note this is NOT the "Kaanapali Beach Hotel".
More info? Prefer Other Dates? Email ronf1@mail.com .